SMO University
Commercial Cleaning Training Programs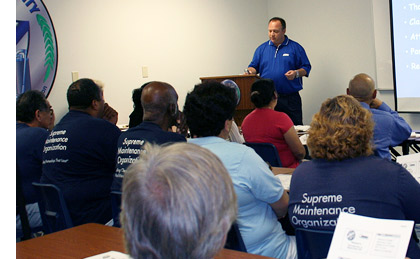 Great service starts with education and training and that's what helps separate SMO from the competition.
That's why SMO is so dedicated to making sure our employees get the support they need, including the best training and education program in the industry today.
Through SMO University, we give our employees the knowledge and experience to deliver the one-of-a-kind service SMO is known for.
SMO University Training
SMO employees are required to attend Cleaning Tech 101 and Safety and Security 102 as part of SMO University. This customized training program incorporates the Tell, Show, Do & Review method of teaching. It capitalizes on our understanding of adult learning principles and gives us the ability to deliver consistent training to each employee. Employees are taught step-by-step procedures to complete the various cleaning tasks they perform and are also instructed on Customer Service, Quality Assurance, and Green Cleaning.
Another unique aspect to our training is the introduction of common "Service Failures." The "Service Failures" are things that our customers don't want to see when they walk into their facility after it has been cleaned. Our training program teaches our cleaners to carefully and consistently address all these important issues.
After each course is completed, employees are given a test to ensure comprehension and a Certificate of Completion.
Managers and Supervisors are required to attend monthly training programs at SMO University to improve their management skills and enhance their industry knowledge.
SMO employees are also given the opportunity to progress outside of work by attending personal enrichment classes. Classes such as the American Dream of Home Ownership, ESL, and Banking Basics are offered to all SMO employees at no cost.
All SMO employees are provided a clear path to success, both personally and professionally. Whether they are an entry level employee aspiring to become a manager or executive or just an employee who wants to learn more about home ownership, SMO University helps them achieve their goals.