Duryea "Juice" Taylor, RBSM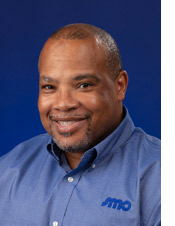 Quality Assurance Manager
Joined SMO in 2005
RBSM designation since 2011
Attended A&T State University
1997 SMO Employee of the Month
ISSA Accredited Auditing Professional since 2020
Duryea first joined SMO as part time Cleaning Technician in 1997 and was quickly promoted to Site Supervisor and eventually Account Manager. Duryea left SMO to pursue other management opportunities. In 2005 Duryea returned in his current role as Quality Assurance Manager. In 2011 he received his RBSM certification from the BSCAI and in 2020 he received ISSA's Accredited Auditing Professional designation.
In his spare time Duryea enjoys singing in his church choir at Oak Ridge Presbyterian Church where he also serves as a deacon.
Duryea has earned the nickname "Juice" because of is energy, positive attitude, and enthusiasm.