Commercial Cleaning Training Program
Great service starts with great education and training.  As an industry leading training program, SMO University helps separate Supreme Maintenance Organization from the competition.  Through SMO University, we give our team members the training and experience to deliver best in class service that Supreme Maintenance Organization is known for throughout the Southeast.
Key Features of SMO University Training:
All team members attend Cleaning Tech 101 and Safety & Security 102
Incorporates the tell, show, do and review method of teaching
Delivers consistent training to each team member
Teaches step-by-step procedures used to complete cleaning task
Includes customer service, quality assurance and green cleaning procedures
Stresses "Service Failures" as issues to avoid at all cost
Managers and supervisors are required to attend monthly training programs
Team members can attend free personal enrichment classes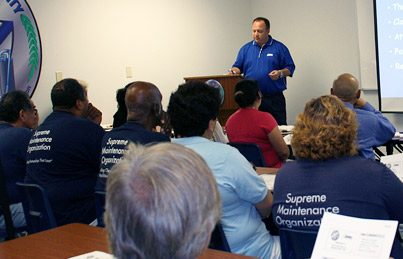 All SMO team members are provided a clear path to success, both personally and professionally which benefits you, the customer.  Contact us today to learn how your business can benefit from SMO University because the more you know, the more you need .. SMO.