Supreme Maintenance Organization (SMO) was founded in Greensboro, North Carolina in 1989 by David Murphy and Gary Collins.  Having just graduated college, the partners started the promising company in their parent's home with a work ethic, Mom's vacuum, and $200.  They soon landed their first cleaning contract and hired a few family members and friends to help out.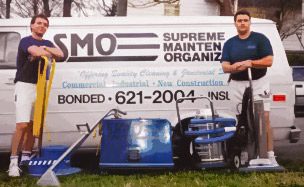 Today, SMO is recognized throughout the Southeast for:
Cost effective cleaning service solutions
As the company continues to grow, David and Gary have never forgotten where they came from and it is these humble beginnings that have given them a deep appreciation for their team members and what they do on a daily basis.  This is one of the reasons that we consider our valuable team members to be internal customers.  We understand that team members who feel valued and appreciated will provide better customer service.  This is one more reason why, the more you know, the more you need… S M O.